Both OST and PST files have their importance in Outlook. They store all data items like emails, tasks, calendars, notes, contacts, etc. The only difference between these two files is PST stores data in online mode and OST in offline mode. Due to the huge amount of data, the file becomes too large and it gets complicated to manage this large size OST file. In addition to this, Outlook will suffer if any of these files get corrupt. Hence, it is important to solve large-size OST file issues in Outlook. Also, the storage capacity of the file depends on installed versions of MS Outlook.
How OST file becomes large or oversize?
OST file contains all data items since the account is generated in Outlook. It holds emails of all folders, attachments, calendars, tasks, contacts, notes, public folders, etc. When users forget to delete data that is not important, the data gets piled up, exceeds the storage limit, and causes corruption in the OST file. Also, large size attachments make OST files oversize.
Issues faced by Outlook users due to large OST file
Unable to load or open OST file
Unable to add data to existing Exchange OST file
Error messages while synchronizing
Unable to fix synchronization issues between Exchange Server & OST file
Difficulty in working with MS Outlook
How do solve the issue of large OST files?
To resolve the issues faced by users due to large OST files, users can follow the primary instructions listed below.
Delete unwanted emails from the OST data file
Save important & large attachments of OST files to the system
Make sure deleted items folder should be clean
Now, the main question here is how users can convert this large OST file to PST file format. Let us know about it in the next segment of this post.
Solutions to convert huge OST data files to Outlook PST file
There are several ways by which users can come out of the issue of converting large OST data files to PST files. But the best possible solution is an automated program. Let us know about these solutions.
Solution 1. Using the Native Import/Export feature of Outlook
Launch the Outlook email client
Go to the File menu and after this pick 'Import & Export'
In the next wizard, go with the 'Export to file option and hit the Next button
Pick the Outlook PST file option and then press the Next button
Pick the mailbox folder to export from and also choose 'Include subfolders'
Browse and pick the folder for saving PST files and hit the Finish button.
Solution 2. Archiving feature of MS Outlook
Launch the Outlook program
Go to the File menu and then go for the Archive option
Pick desired file/folder to archive
Browse destination to save the archived file
Finally, go for the Finish button.
Solution 3. Dragging & dropping of mailbox items
This method exports OST mailbox items into a new PST file.
Open your Outlook application
Create a new PST file in MS Outlook
Start dragging mailbox folders to the newly created PST file
Note: This method failed to export contacts, Inbox, etc. default folders.
Solution 4. Professional Software
You can go with Softaken OST to PST Converter automated utility to convert huge size OST file mailbox items to PST files. This program effortlessly repairs and converts corrupt, damaged & orphaned OST files without needing any technical expertise. Both novice and professionals can use this smart tool without any hurdles.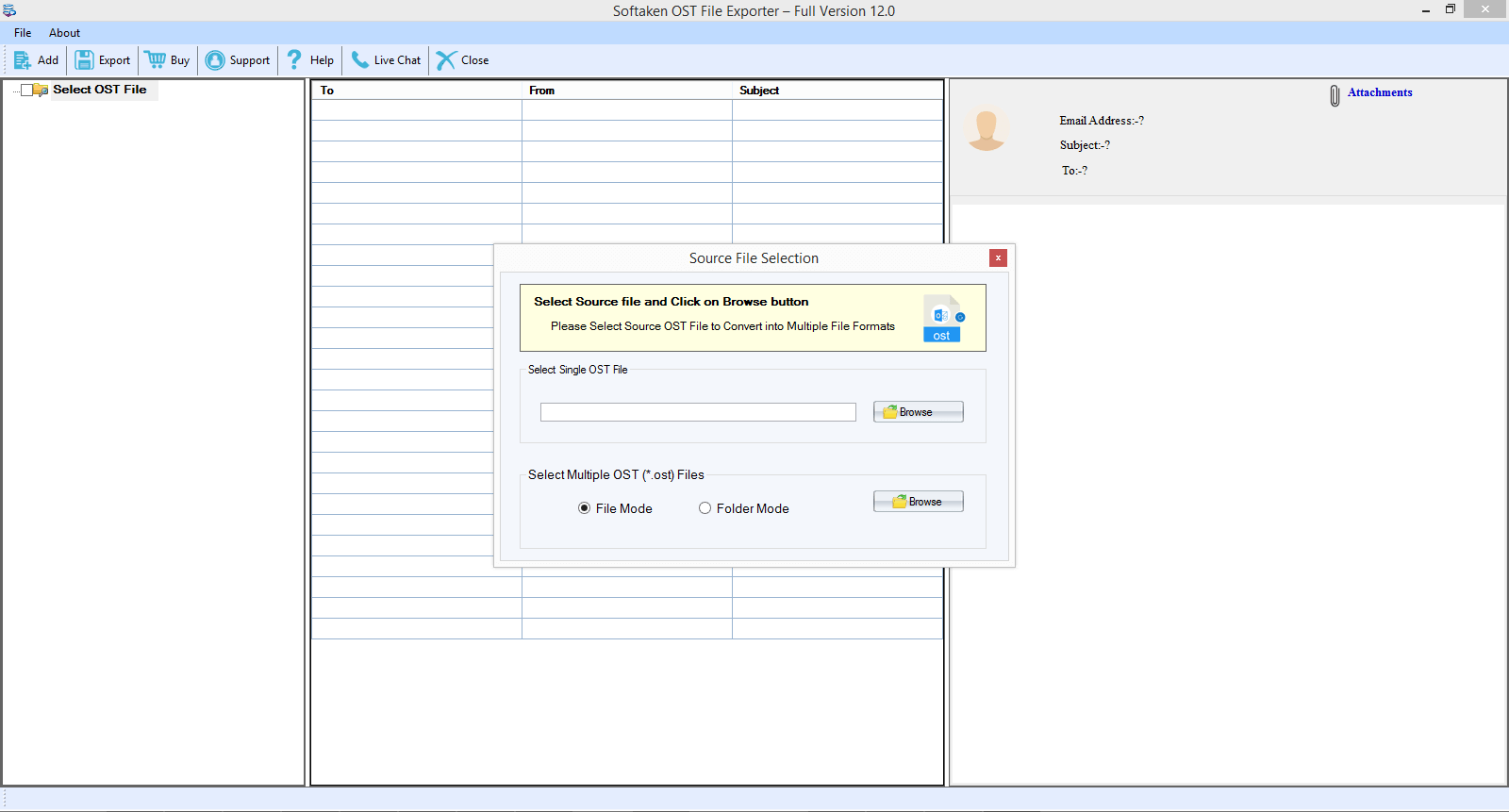 This program offers a set of amazing features that make it the best solution to convert OST databases to PST files.
Benefits of this professional utility:
Smooth conversion of any heavy size OST data file
Permits conversion of OST file to multiple targets like EML, MBOX, MSG, EMLX, VCF, & ICS
Show you a quick & free preview of OST data items
Provision for desired data items exported from OST data file
Maintain actual database hierarchy and metadata properties
Free trial for everyone to analyze the program working
The capability of exporting OST file items in the absence of MS Outlook
Conclusion
This post reveals issues users faced with large OST files and ways to solve the issue of converting oversized or heavy OST files into PST files. You can do this conversion manually but when your OST file is too large then you don't want to take risk of losing data items. So, we highly recommend an automated solution for it. Using the software, you can effortlessly convert all or picked data items of huge size OST files into MS Outlook PST files.